For years patients have suffered from a variety of pain-type complaints from back pain or knee pain to carpal tunnel syndrome. Advances in medicine and portable ultrasound machines are providing relief for these patients by utilizing ultrasound for needle guided injections. For example, the AC joint at the top of the shoulder is difficult to locate due to its small size and variable anatomy. A 2006 study showed a 60% failure rate for these joint injections, Bisbinas I, et al. Accuracy of needle placement in ACJ injections. Knee Surg Sports Traumatol Arthrosc. 2006 Aug;14(8):762-5.
However, portable ultra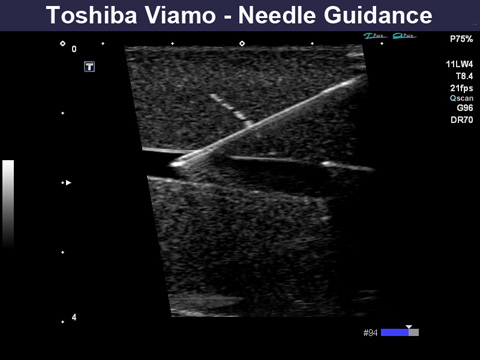 sound machines such as the SonoSite M-Turbo or Toshiba Viamo are easy to use and feature a needle visualization software that "lights up" as the needle penetrates the skin and moves toward the area of interest. Clinicians using this technology vary from orthopedic surgeons to rheumatologists to osteopaths. Osteopathic medicine in particular is primed to embrace this technology as their practice is centered around the musculoskeletal system and joint injections have been part of patient therapy. Utilizing prolotherapy for treatment they are now able to incorporate ultrasound to capture a pre and post image of the joint, tendon or ligament, as well as improve their accuracy in joint injections.
In 2010, a group of rheumatologists conducted a study, led by Wilmer Sibbitt, Jr., M.D from University of New Mexico Health Sciences Center, which found that there was a 107% increase in patient response rate when utilizing ultrasound for needle guided injections compared to joint injections given by palpation only. In addition, "study results showed the ultrasound method led to a 14.6% (US$48) reduction in cost per participant per year and a 58.8% ($593) reduction in the cost per hospital-outpatient participant who responded to the treatment."
Physicians describe the preferred ultrasound system to be portable, have high resolution imaging, a high frequency transducer, and be non-cumbersome since they are typically holding the probe with one hand and injecting with the other.