As physicians struggle with the need to diversify patient services while managing their cash flow, one company has implemented an innovative program to help customers demo ultrasound equipment, online, before committing to a major purchase – a program which has increased customer satisfaction by ensuring the ultrasound machine meets their needs. Providing customers with ultrasound system demonstrations is not a new concept, all the large manufacturers like Siemens, Toshiba, and SonoSite typically go on-site to customer offices' or hospital departments to demonstrate the equipment prior to purchase. Demoing a system is a great opportunity for customers to engage with a clinical person to ensure the ultrasound machine is going to meet their expectations: See image quality, verify software features for their clinical exams, and ask questions to a clinical expert. In these economic times, a private physician cannot risk spending thousands of dollars on capital equipment and have it not meet his or her needs.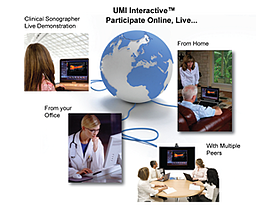 United Medical Instruments, Inc. is a multi-vendor ultrasound reseller, selling both new and used ultrasound equipment, and now they offer its customers a new program to evaluate systems prior to purchase. It's called UMI Interactive™ and it's the first program of its kind where physicians and sonographers can evaluate ultrasound equipment prior to purchase.
Purchasing new or used ultrasound machines from a reputable ultrasound reseller is a good solution for those working with a budget. But on the flip side, there isn't enough money built into these transactions to allow for onsite ultrasound system demonstrations. But with the UMI Interactive™, customers have the ability to schedule a convenient demo time and work directly with one of the registered staff sonographers to participate in live scanning and verify the system features and image quality meet their requirements.

To learn more about this program and schedule an online demo, click here. Explore United Medical Instruments, Inc. by visiting their website.