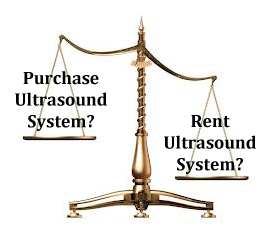 Are you considering adding or replacing a diagnostic ultrasound machine in your practice? In our current economic environment and with the affordable care act affecting insurance reimbursements, many physicians are thinking twice about making a large capital equipment investment.
Have you considered
renting a portable ultrasound machine
? Renting a diagnostic imaging system is a quick way to acquire a much needed ultrasound unit without having to qualify for a capital equipment loan.

10 reasons to rent vs. purchase a diagnostic ultrasound machine include:
Low Monthly Rental Payments – Renting an ultrasound machine can cost far less than purchasing a new ultrasound system.
Minimal Initial Investment – Renting gives you the ability to use your operational cash flow and preserve your capital for other areas of your business.
Utilize New CPT Billing with Little Investment – Renting ultrasound allows you to add new billable services to your practice/facility.
Rent It Before You Buy It – Renting allows you to use a system prior to making a purchasing decision.
No Maintenance Costs – United Medical Instruments, Inc. (UMI) covers all equipment maintenance and repairs during your rental agreement.
No Long Term Commitment – Your rental contract is only for 1 year. After that – pay as you go.
Operational Expense – A medical equipment rental can be written off as an overhead expense.
Option to Purchase - You can turn your short term commitment into a permanent investment any time within the first year of your contract and apply all payments toward the purchase price.
Software Updates and New Technologies – Renting allows you the opportunity to stay current with new software updates and technologies.
Ultrasound System Training – We will provide one day of onsite applications training with additional online support throughout your rental agreement via UMI Interactive.
It is important to manage cash flow in any business but in a medical practice watching the bottom line is even more crucial. Renting a portable ultrasound machine keeps your money working for you, not tied to a costly medical imaging device that will be outdated when a new system or technology is released.
United Medical Instruments, Inc. offers
ultrasound machines for rent
.
If you would like to discuss ultrasound rental options, Contact us at
877.490.7036
or
click here
to,