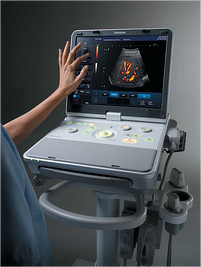 The Toshiba Viamo combines all the advantages of a portable ultrasound system with the diagnostic precision, productivity and comfort of a premium cart-based machine. It shares its core imaging engine and transducer technology with the Toshiba Aplio™ series, and offers uncompromized image quality and clinical workflow support in situations where unlimited portability is required.
The Viamo features a built-in touch screen that allows for seamless workflow and an outstandingly comfortable and intuitive operation of the system. Viamo's monitor can be rotated to enable free positioning of the screen. When fully turned and folded flat, Viamo can be operated in tablet mode solely via its touch screen. Individual key functions on Viamo's console and touch screen are user programmable to suit your specific diagnostic requirements or personal preferences.
A whole range of workflow automation functions is available on Viamo. One-touch QuickScan for instance helps you achieve better imaging results in less time by automatically optimizing your imaging parameters. And Viamo's innovative SonoSet™ function allows you to carry out examinations conveniently by simply executing freely programmable protocols step by step.
Viamo Features:
Premium image quality

5 seconds boot up time

Hybrid operation with touch screen and programmable panel

Versatile mounting in desktop, cart and tablet modes

Instant image optimization

One-click work flow control
Viamo Specifications:
15" LCD with touch screen

Dimensions: 3.9" (H) x 13.8" (W) x 15.7" (D)

Weight: 18.1 lbs
Imaging modes:
2D, B-mode, M-mode, Color Flow Doppler, Spectral Doppler- PWD, High PRF, Advanced Dynamic Flow (Directional Color Power Doppler). TwinView™, Pulse Subtraction™ THI (Tissue Harmonic Imaging), Compound Imaging- Aplipure™, Quick Scan, Speckle Noise Reduction- TissuePure™, 8 GB internal memory storage, 2 USB ports.
Applications:
Endocrinology

Family Practice

Nephrology

Neurology

OB-GYN

Orthopedics

Pain Management

Urology

Vascular
PLT-1204BT Linear Array (7-14 MHz)

PLT-704AT Convex Array (1.5-5.4 MHz)

PLT-704ST Linear Array (6.2-11 MHz)

PLT-705BTH Linear Array (2.8-10.3 MHz)

PLT-805AT Linear Array (3.9-11.1 MHz)

PST-25ST Phased Array (1-5 MHz)

PST-50BT Phased Array (2.5-7.6 MHz)

PVT-375ST Convex Array (1.4-5.3 MHz)

PVT-382BT Convex Array (1.5-5.4 MHz)

PVT-661VT Endocavitary (3-8.6 MHz)

PVT-674BT Convex Array (2.5-8.5 MHz)

PVT-712BT Convex Array (3-10 MHz)

PVT-745BTV Intraoperative Convex Array (2.8-10.3 MHz)
Have you considered renting an ultrasound machine? Click here to read our blog, Ultrasound Rental – 10 Reasons It Makes Sense!
Would you like to see the Viamo's image quality? Click below to request an live, online virtual demonstration.

United Medical Instruments, Inc.
offers a wide suite of ultrasound solutions. Visit us at
www.umiultrasound.com
or
contact us at 877.490.7036 to get in touch!