As ultrasound systems become smaller and the need for a quicker diagnosis becomes greater, point-of-care ultrasound has become an expanding market. The definition of this term is that those who have not been formally trained on ultrasound physics and anatomy are actually the healthcare providers now conducting the ultrasound scans for specific procedures such as vein care, needle placement, assessing organ trauma or disease.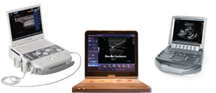 A new challenge on the horizon is how to supply astronauts with quality imaging devices to diagnose potential medical conditions while they are on a mission in space. Portable ultrasound is one solution in providing point-of-care ultrasound to the men and women who are away from technology found on earth. Dr. Scott Dulchavsky, surgeon-in-chief at the Henry Ford Hospital in Detroit, is collaborating with the International Space Station to develop training, protocol, and recommend appropriate ultrasound equipment to provide the space teams with diagnostic capabilities.
While there are a variety of portable ultrasound systems available, SonoSite has carved out a niche in point-of-care ultrasound. These laptop-sized units weigh 10 pounds, have a lightening fast boot up time and are developed with ease-of use in mind. Training can then be centered around teaching these non-physicians to recognize anatomy and pathology, interpret the ultrasound images they are capturing and arrive at a diagnosis.
Some experts claim that the point-of-care ultrasound market takes a step backward in the field of ultrasound, so perhaps instead of an on-the- job training approach, serious consideration should be given to attending ultrasound workshops provided by specialists such as SonoSite or Advanced Health Education Center. As portable ultrasound machines are taken into space, proper training and easy to use ultrasound machines will allow our astronauts to receive quality care off the planet as well as on it.