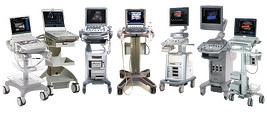 Advances in ultrasound machines have expanded in the years to now rival image quality of more expensive imaging modalities such as MRI and CT, yet at the fraction of the price and yielding real time results for improved patient care.
With a growing aged population and pressure to provide improved patient services, in-office diagnostic ultrasound exams continue to grow. From portable ultrasound machines to cart-based, and with a price range for every budget - whether a new or

refurbished ultrasound machine

, if you're looking to improve patient care, it's time to investigate your options. The clinical applications are vast, enabling physicians to grow their practices. Some of the popular areas for ultrasound are:

Below are some basic tips to justifying the cost of an ultrasound machine purchase for your practice:
Determine final purchase price of equipment: machine, software and hardware, transducers, freight and tax
Consult the CPT Codes for ultrasound exams for your area, or

click here

for a basic chart
Estimate increase in gross annual revenue
Calculate reimbursements or disallowments, figure the net annual revenue
Estimate increase in operating costs: additional staff, service contract, radiologist for readings
Deduct the increased total annual operating expenses from the estimated increased net revenue
Estimate time to of payback for investment: calculate by dividing the previously estimated total cost of investment by the net average annual income in years
Ready to start evaluating ultrasound machines? Use our matrix!