A PICC line can be used as a reliable way to administer antibiotics, pain medicine, chemotherapy, and nutrition, or for the drawing of blood samples. They are inserted by a physician's assistant or certified nurse using ultrasound technology at the patient's bedside to visualize a deep, large vessel in the upper arm.
7 reasons a PICC may be requested as a treatment option include:
1. Prolonged IV antibiotic treatments
2. Less invasive IV access
3. Provides a source of multiple accesses with one access line
4. Total Parenteral Nutrition (TPN)
5. Chemotherapy treatments
6. IV access related to physiological factors
7. Home or sub-acute discharge for extended treatments
5 signs that your patient may need a PICC include:
1. A failing IV site
2. Poor access / difficult to find venous access
3. Multiple flood draws
4. Post hospital discharge requiring moderate to long term IV therapy
5. Prescribed caustic IV medication treatment
While there are other types of central line choices, PICCs are often preferred due to the convenience of insertion and removal as well as avoidance of some of the more serious insertion related complications of chest or neck placed lines.
The uSmart is a fantastic solution for PICC Line insertions and PICC Line imaging procedures because it is…
Portable Ultrasound Tablet - with an adaptive touch screen that utilizes smart gesture commands
Superior image quality
Affordable — It is a fraction of the cost of other portable devices
Anywhere, system weighs under 5 pounds / Anytime with a fast boot up
Ultrasound Made Simple with application specific presets
Fully digital B mode, PW, Color Doppler system
Reliable with a 5 year warranty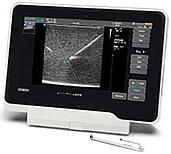 To request more information about the uSmart ultrasound tablet for PICC Line procedures,