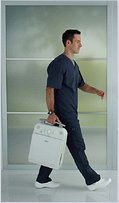 Portable ultrasound machines are available from every manufacturer and range in price from $10,000-$75,000 depending on features and technology. Depending on one's clinical needs it certainly seems to make sense to buy one either for your private practice or to start a mobile sonography business. In the last month of 2012, and with Section 179 Tax Deduction available, it even makes more sense to take advantage of the cost savings.
However, mobile ultrasound businesses have changed over the last few years, so if you are considering starting one, read my interview below with Ron Sidi, RDCS, RDMS, AARMRI and read his opinion about owning a mobile business.
UMI: How long have you owned your mobile company? And which portable ultrasound machine do you utilize?
Ron: I have had my mobile ultrasound business for 10 years. For me, I use the GE Vivid-i. I work with cardiologists in the New York area and have found the Vivid-i portable ultrasound machine a good fit for my scanning needs. It has good image quality, it's reliable, and it's portable and lightweight which helps when travelling between facilities.
UMI: What changes have you seen in the last two years when it comes to running a mobile business?
Ron: Reimbursement has definitely effected my business. Of course, the hardest hit clinical application has been cardiology. The market that seems to be growing right now is MSK or pain management, the physicians who are doing joint injections with ultrasound guidance.
UMI: If a sonographer is considering starting a mobile business, what tips would you offer?
Ron:
When setting up a business it's important to seek advice from an accountant and an attorney to ensure it is structured correctly for legal and accounting purposes
Align yourself with societies desgined for sonographers
Diversify your skill set and registries so that you are more marketable
Ensure you have a good reputation, word of mouth is the best way to find business
Cold calling does work - prepare a brochure, business card, contact information and drop that off at clinics or physician offices
Don't forget to check online, sometimes people post want ads on Craigslist
Establish a one year contract with the client, renegotiate based on changes that develop
UMI: What supplies or equipment should a sonographer have before getting started?
Ron: There are two ways to start the business either one, go to the facility and use their ultrasound machine or two, buy your own portable ultrasound machine and take it with you. For either option you should invest in: Ultrasound supplies like gel, an accounting program like QuickBooks(tm) to manage your invoicing, business insurance, and a service contract to cover any equipment issues that may arise. When traveling with your own ultrasound machine, transducers can get damaged.
UMI: I realize payment is market and demographic specific with quite a bit of fluctuation, but can you explain the different types of payment and ballpark what a sonographer can expect?
Ron: Sure! As you mentioned, there are a lot of factors that go into the pricing piece, so these are generalities and will vary by region, clinical application, experience, having your own equipment, etc. In general, there are three ways to set up your structure:
Pay by study, which ranges from $40.00-$60.00/study
Pay by the hour, which ranges from $20.00-$35.00/hour
Pay by day, which ranges from $300.00-$375.00/day
UMI: Thank you, Ron, for your time and great information for sonographers interested in starting a mobile practice.
If you're considering the purchase of a

portable ultrasound machine

, use our matrix to begin the evaluation process!