Women with dense breast tissue are at a disadvantage when it comes to cancer screening which can be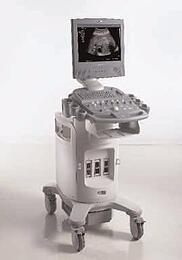 detrimental because those with dense breasts are also at higher risk. Dense breast tissue consists of a lot of glands, ducts, tissues and fibrous with less fat that other breast tissue. In the case of mammograms abnormalities are not always detected. However, when ultrasound is included there is a better chance of visualizing lesions. Ideally, the ultrasound system will have clear resolution, high frequency transducer, such as the VF10-5 found on the Siemens Acuson X300 ultrasound machine, as well as biopsy capability in case a needle guided procedure is required during the exam.
According to an article on Healthimaging.com:
"Supplementing screening mammography with ultrasound or MRI improved breast cancer detection among women with dense breasts and at least one additional risk factor (intermediate-risk women), according to the ACRIN 6666 study published April 4 in the Journal of the American Medical Association. Adding screening ultrasound to annual mammography increased the cancer detection rate 4.3 cancers per 1,000 screens each year over three years. A single screening MR screening revealed additional cancers not seen by mammography or ultrasound at a rate of 14.7 per 1,000 screens. Applying the finding in practice, however, illustrates the complex web of breast cancer screening."
To see our portfolio of ultrasound systems for breast imaging, visit our website click here.