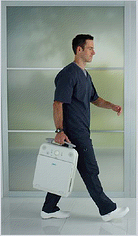 So you have a new laptop ultrasound system in your private practice, great, but how do you market yourself in your community? Ultrasound is a versatile and affordable modality that is changing the way physicians treat patients. Private practice clinicians are incorporating ultrasound for a range of specialties from breast imaging to AAA screenings to ultrasound guided joint injections and in-office biopsies. As physicians look to treat the whole patient and conduct preventive screenings, marketing yourself as a resource is paramount. Following are some social media ideas to incorporate into your marketing plan when promoting ultrasound at your office:
1. Facebook. You do not need to post your daily trip to the coffee shop or give hourly status updates that frankly, not many people care about, but what you DO need to have is a Facebook Fan Page, and this is assuming you have a website which is imperative to the success of every business at this point. Use the Facebook Fan Page to promote happenings at your clinic (health screenings or free baby face scan), relevant articles for your patient population, comment section for patients to provide feedback about the care and service received. Facebook is also a very economical tool for targeted ad campaigns to reach potential patients. For example, September is National Prostate and Ovarian Cancer month, create a demographic-specific ad to draw attention to your practice and the ultrasound services you provide centered around these topics.
2. Yelp or Healthgrades. When anyone does research when making a purchase or taking a trip, the internet and Google are the first-stop in that journey. The same is true, if not more true, when researching a doctor. Reading reviews of the physician, their practice and services offered drive the decision making process to make the appointment or move on. Ensure you have available content on sites your potential patients are perusing and check them yourself for positive or negative comments so that you can manage your reputation accordingly.
3. YouTube. Video testimonials are powerful and allow access to real patients. Ensuring all HIPAA laws are followed, you might consider interviewing a few patients and highlight their experience at your practice. Post these on your website to help keep your site fresh, dynamic and up top in Google search results.
Ownership of portable ultrasound equipment is on the rise, if you have a system in your practice, make sure your patients know how you can help them! To learn more about ultrasound and joint injections click here.