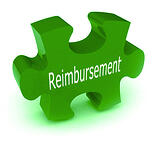 According to a recent announcement from EHR/EMR audits are beginning for not just hospitals but also for private practice physicians. To read more about preparing your office for electronic medical records, read our blog Electronic Records, Physician Incentives or Penalties – the Scoop. Not only are electronic records on the way to becoming mandatory staples of practice, so are new rules regarding reimbursement. The controversy surrounding SGR with Congress now has a Band-Aid in place which will either freeze or cap physician reimbursement levels at 2% from Medicare. The two year patch is to prevent focus on reimbursement during an election year.
The first change to ensure implementation of is the 5010 HIPAA transaction standards which will impact other areas for reimbursement. Full compliance is slated for January 1, 2012, although there is a 90 day grace period. The incentive though, is not to avoid being fined but rather because you won't be reimbursed if your claim is not in the 5010 format. The complexity here is that the insurance companies, clearing houses, practice management software and Medicaid must all be able to communicate. Medicare and state Medicaid programs must also be able to communicate. Government agencies interfacing seamlessly? Time will tell.
The second area that effects reimbursement is the revised ABN (Advanced Beneficiary Notice of Noncoverage), Form CMS-R-131. This form (that has a release date of 3/2011 printed in the lower left hand corner) can be downloaded from the CMS website. The revised form replaces ABN-G, ABN-L, and NEMB - this new form must be used starting January 1, 2012 and if you are audited and found to be using one of the old ones, you will be fined.
The third change comes in the form of a billing code. The ICD-10 code will replace the ICD-9 billing code and compliance must be met by October 1, 2013. Understanding and using the 5010 HIPAA transaction standard will be paramount to using the ICD-10 codes accurately. The new codes are explained like this:
ICD-10-CM codes are the ones designated for use in documenting diagnoses. They are 3-7 characters in length and total 68,000, while ICD-9-CM diagnosis codes are 3-5 digits in length and number over 14,000. The ICD-10-PCS are the procedure codes and they are alphanumeric, 7 characters in length, and total approximately 87,000, while ICD-9-CM procedure codes are only 3-4 numbers in length and total approximately 4,000 codes. To learn more about the facts behind ICD-10 visit ama-assn.org.
At United Medical Instruments, Inc. we take pride in being a resource to our customers. Should you need ultrasound equipment, ultrasound service contracts or have any needs where we can assist, make sure you contact us today!